Frequently Asked Questions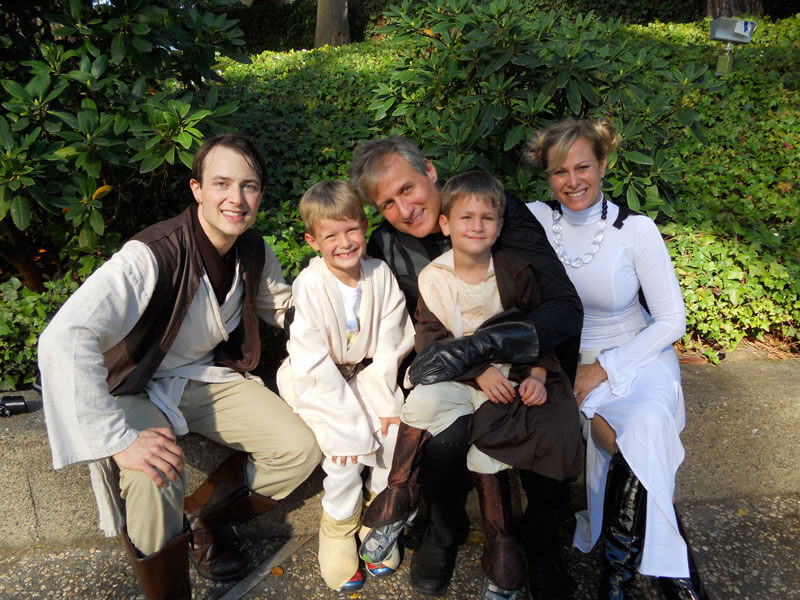 Hi there! My name is Andy Zandy and I have been entertaining family audiences professionally for over twenty years. In that time, I've helped thousands of parents make their child's special day unforgettable and I know how stressful planning a kid's party can be. Having a ton of kids and their parents in your home or at a venue you've rented is a lot: What do you need to feed them all? How do you keep the kids engaged so they don't destroy my home? Hiring an entertainer only makes things more complex: What kind of performer should I choose? How do they fit into flow of the party? How can I ensure that I'm getting the best entertainment possible?
To help you with your decision, I've compiled a list of answers to the most common questions I've heard from clients over the years. If you have a question that isn't answered here, feel free to email me at info[at]andyzandy.com and I'll be happy to help you.
What ages are your parties appropriate for?
I tailor my parties for kids ages 3-8, so anyone in that range will have a great time with me. Over the years, I've found that Pirate, Magician and Superhero parties are most popular with kids in the 3-5 range, while kids age 5-8 are at a better developmental level to learn the lightsaber choreography and martial arts skills I teach in my Jedi and Ninja parties.
What are your rates?
My rates vary depending on the duration of the event and the number of kids at your party. Each of my character pages has a detailed pricing list that will give you a ballpark idea of what would be appropriate for your particular event. If you have further questions, shoot me an email at info[at]andyzandy.com I'll be happy to help you determine the best package for your party.
How far in advance should I book my party with you?
As soon as possible! I suggest contacting me 4-6 weeks before the date of your party to ensure first pick of your preferred date and time. You'd be shocked how far in advance some parents plan their children's birthday parties! Booking closer to the date of a party is often possible if you're flexible with your start time, as I will likely have other bookings that day which we'll need to work around.
If I am serving lunch at my party, should that happen before or after your appearance?
My shows are very interactive and food can often get in the way, so I've found it works best to serve lunch and cake after my appearance to ensure that everyone's hands and mouths are free for the show. This also keeps your home or party venue safer from spills and food messes.
There will be boys and girls from my son's class at his birthday party. Will the girls enjoy themselves too?
Yes! The way I see it, your choice of character should cater to the birthday child's interests, but the shows I do are designed to entertain everyone at your party, adults included. I don't buy into the idea of "girl stuff" and "boy stuff," and believe that action and excitement are fun and accessible to everyone, regardless of gender.
How do I prepare for having you entertain at my party?
My shows can scale to spaces ranging from a living room to a football field. The basic rule of thumb is that we need enough open floorspace for all the kids to do jumping jacks without hitting each other in the face, but this can scale down a little depending on the type of party you've requested. A neutral, distraction-free space is ideal, as it allows the kids to focus their imaginations on creating a truly personalized experience. Additionally, every Andy Zandy booking comes with a free conference call with me before your party. This gives us an opportunity to fine-tune your party for maximum success and gives you a chance to ask any questions you might have.
Are you licensed and insured?
Yes, I am licensed through the city of Oakland and carry $1 million in liability insurance through the National Association of Mobile Entertainers.
Will the kids really stay engaged for your whole appearance?
Yep! The meta-skill that has made me successful in this unusual career is being really, really engaging and funny to kids, an ability I've been developing since the age of eleven. Magic, action-packed activities, and balloon twisting are all strategies I use in support of this umbrella skill. My shows are full of audience participation to ensure the kids stay checked in, and my movement-based physical activities keep kids in their bodies while giving them a controlled outlet for any fidgety energy that may arise. Additionally, getting the kids moving around tires them out, making them easier for you to manage when I hand them over to you at the end of my appearance. I call this my "birthday present to Mom."
Can you make appearances with other characters?
Yes, I often partner with other children's entertainers for large parties or occasions when clients want something extra-special for their party. I have access to a wide variety of fairies and Disney princesses, including Elsa from Frozen and Rey from Star Wars. I also perform on occasion with Captain America, Batman, and Darth Vader. To inquire about additional characters, just add a note when you send in your Quote Request.
I want to give pool noodle lightsabers or plastic lightsabers to the kids at my Jedi party. How should I handle this?
Honestly, I wouldn't go there. Hard plastic lightsabers and pool noodle lightsabers look awesome, but they hurt pretty badly when you get hit in the face with one. I've done over 250 Jedi parties and someone has gone to Mom in tears at almost every single party where hard lightsabers have been given to the kids. I've settled on using balloon lightsabers in my shows specifically because it's impossible to injure anyone with them. If you do wish to give pool noodle or plastic lightsabers as party favors, I suggest giving them to the kids as they're leaving the party. This will minimize the amount of time they'll be able to swing them around and potentially hurt each other.
I am interested in making Jedi robes for the kids at my party. Can you help me with this?
If you're going to make Jedi costumes for your guests, I'll be happy to lend you my kid-wrangling skills to help distribute them. I generally try to discourage homemade Jedi costumes at parties for one simple reason: they don't stay on when you're moving around. I just had a client in Silicon Valley who spent an extraordinary amount of money on a Star Wars party for her son, but he was so distracted by his costume falling off that he barely participated in my show at all!
If you are set on making costumes for the kids and you're going the folded-piece-of-cloth-with-a-head-hole-and-a rope-around-the-middle route, I encourage you to cut the piece of cloth long so it lands just above the knee on the front and back. This will prevent the fabric from sliding out from under the rope when the kids move their arms above their heads for jumping jacks and overhead lightsaber moves. I also strongly suggest making a prototype costume that you can put on your child before sending them out to play for half an hour or so. If there are any issues with the design that need to be addressed, they'll tell you pretty quickly.
Can you help me run an obstacle course and games that I've made for my party?
Yes, absolutely. I've done this for a number of clients who wanted to go big with the other activities at their child's party. My shows are designed to give kids a full and satisfying Ninja/Pirate/Superhero/Jedi Training experience on their own, but if you want to go really big with it and create additional activities, I'm happy to help you run them.
My husband, friend or relative would like to wear his Darth Vader or Kylo Ren costume at my Star Wars party. Is that possible?
Yes, I've done this many times for clients. It seems to work best when the Sith Lord's appearance is brief and begins about 10 minutes before the end of my show. Most of the kids will already have their balloon lightsabers by this point, giving them the opportunity to practice their new moves in battle with their dark adversary. Just warn your Sith Lord that they're in for an intense experience – those costumes are hot to wear and they're likely going to be swarmed by every single kid at the party the moment they appear! If you're interested in having Darth Vader be a part of the actual show, I have a Darth Vader entertainer who I perform with regularly that can be added to your party.
Do you offer any other characters than the ones on your site?
Yes, I have done special characters for clients in the past and am open to discussing different options with you. Special characters are usually those I don't have costumes for due to low demand, so in these instances I usually ask the client to finance the costume for me on top of an additional charge for creating a new themed show. Action-ready costumes often take a while to order and fabricate, so this is generally only an option for those with a minimum of two months' lead time and a more substantial budget.
Do you offer face painting?
Nope, I'm a terrible face painter. Two-dimensional design skills run strong in my family, but I didn't seem to get that particular gene. If you'd like a face painter to compliment my show, I'm tied in to the children's entertainment community and can recommend several excellent people.