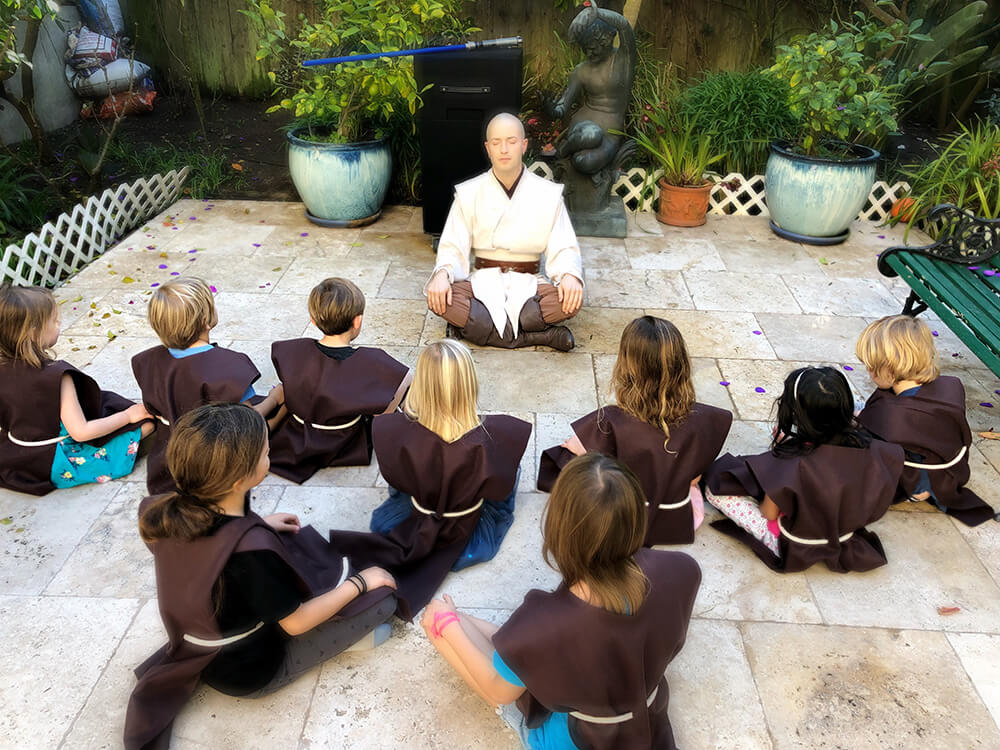 Frequently Asked Questions
Planning a family event can be tricky. Kids have fickle attention spans, behave unpredictably, and will be the first to tell you if they're bored or not having fun. Imagining a horde of kids running wild at your event is enough to make anyone nervous…even some of the high-end event planners we work with!

Fortunately, chaos at a family event is completely avoidable. When you bring in a professional action entertainment specialist like Andy Zandy, you're guaranteed an engaging experience that draws kids in like an electromagnet and keeps them captivated the whole time. This allows the adults to have a good time also, which makes your hosting job easy and ensures a positive experience for everyone.

Our clients are the type of people who expect the best, so we've compiled the following FAQ to help you learn more about our work and how we serve our clients to the highest degree possible.
How do I book Andy for my event?
Andy is a top professional and gets inquiries for considerably more events than he's able to do in a given month, so we're very selective about the appearances he takes and the people we bring on as clients. Sign up for a
Rock Your Event Call
to chat with one of our event specialists and see if your event is a good fit for Andy.
What if Andy is unavailable but I still want great action entertainment for my event?
As one of America's preeminent family entertainers, Andy gets calls for many more events than he can take and his time is limited. If Andy is unavailable on your preferred date and you are still interested in some quality action entertainment for your event, we've still got you covered. To ensure quality service for as many clients as possible, Andy has personally trained several certified alternate entertainers who can do a great job at your event.
How far in advance should I book my event with you?
As early as possible! Due to the high volume of inquiries we receive, Andy's calendar and those of his alternates are often booked several months in advance, so proactivity is your friend. Many of our recurring clients are so determined to get us on their calendars that they call us 6 months in advance of their events!
What ages are your experiences appropriate for?
Most of our clients call us for events where the majority of kids they need to engage are between the ages of 3-8, though we frequently make appearances at events where older or younger kids are present. 
To inquire as to whether your group is a good fit for one of our experiences, please sign up for a Rock Your Event call with one of our event specialists and we'll be happy to learn more about your needs.
What kind of venue is suitable for hosting an action experience?
Andy prefers indoor venues, so we always prioritize clients who have such spaces available. Andy will make outdoor appearances in certain situations; signing up for a
Rock Your Event Call
with one of our event specialists will allow us to determine whether your outdoor venue is suitable for an action event.
At minimum, an action experience requires enough open floorspace for all the kids to do jumping jacks without running into each other. The more space you can provide, the more the kids can run around and have fun.
Does Andy make appearances outside the Bay Area?
Yes. Andy has performed all over the world and is available for national and international events outside his home in the San Francisco Bay Area. To inquire whether Andy can travel to appear at your event, please sign up for a
Rock Your Event Call
with one of our event specialists.
When should I serve food at my event?
Our experiences are highly interactive and require kids to have their hands and voices free, so we've found it works best to serve food after your entertainer's appearance. This also helps keep your venue safe from spills and food messes.
There will be boys and girls at my event. Will the girls enjoy themselves too?
Yes! Clients often hire Andy or his alternates as a particular character to complement a theme or the interests of a guest of honor, but laughter and excitement are not gender-specific. Andy has used over two decades of family entertainment experience to design our experiences with wide appeal to ensure that all the kids at your event will stay engaged and have a great time.
How do I prepare for your appearance at my event?
To ensure that every event is a success, every client of ours receives a comprehensive event planning guide packed with information from Andy's 20+ years as a family entertainer.
No two events are exactly alike, so every booking with us also includes a complimentary, in-depth conference call with your entertainer prior to your event. This opportunity to consult with a family event specialist is a hallmark of our industry-leading client service, giving you the ability to custom-tailor the specifics of your event for maximum success and peace of mind.
Is Andy licensed and insured?
Yes, Andy Zandy Entertainment is a licensed business in the city of Oakland, CA. Our entertainers carry $1 million in liability insurance through the National Association of Mobile Entertainers.
If you need a copy of our insurance policy listing your event, organization, or venue as additional insured, please let us know and we'll be happy to help you.
Will the kids really stay engaged for the whole experience?
Yes! Our shows are full of audience participation and a wide variety of activities to ensure the kids stay checked in. Unlike traditional family entertainment which requires kids to sit on one place the whole time, our experiences are packed with themed movement activities designed to give kids a controlled outlet for their natural energy, ensuring they won't get too wild.
Can you make appearances with additional characters?
Our experiences are professionally crafted full-immersion events, so we do not perform with  entertainers who have not rehearsed or trained with us. If you would like a referral to additional entertainers to appear at your event at a different time than our appearance as face painters, jugglers, or otherwise, we will be happy to suggest a trusted professional from our network.
To inquire about additional characters, please sign up for a
Rock Your Event
call with one of our event specialists.
I want to give pool noodle lightsabers, plastic lightsabers, or swords to the kids at my event. How should I handle this?
Honestly, we don't recommend it. Hard plastic lightsabers and pool noodle lightsabers look awesome, but they hurt pretty badly when you get hit in the face with one. Andy and our alternates have done hundreds of events where kids have run to Mom in tears from getting hit by a lightsaber or sword made of a dense material. We'd love to say that kids can be trusted not to whack each other in the face if asked, but the reality is different.
We've settled on using balloon lightsabers in our shows specifically because it's impossible to injure anyone with them. If you do wish to give pool noodle lightsabers or plastic swords as party favors, we suggest giving them to the kids as they're leaving the party. This will minimize the amount of time they'll be able to swing them around and potentially hurt each other.
If you would still like your guests to have an opportunity to train with real training swords or lightsabers, we offer several Jedi and Ninja packages which include supervised dueling options.
I am interested in making/distributing costumes for the kids at my event. Can you help me with this?
A lot of children's costumes are made of flimsy inexpensive material, and they're not designed for action and tend to fall off. The typical scenario goes like this: The child's costume falls off during a show. The child runs to mom, begging her to fix it. Mom stops her conversation and patiently fixes her child's costume. The child runs back to the show, but has missed out on part of the entertainment. Within five minutes the costume is falling off again and the cycle starts over. How frustrating!
If your child wants to wear a costume to a show, we recommend putting them into the costume prior to the show and taking them to run around in the park for an hour. If the costume stays on the whole time and doesn't need to be adjusted or fixed, you're golden. Additionally, if you're event is outside, make sure they're not too warm so the children don't overheat.

We work with a lot of crafty clients who like to make Jedi robes or superhero mask/cape sets for their guests, which look totally awesome and are a frequent source of the issues previously mentioned.

We recommend distributing costumes to your guests after the show to maximize engagement with the entertainment and photo opportunities at the end of the party.
Can you help me run an obstacle course and games that I've made for my event?
Yes, absolutely. We've done this for a number of clients who wanted to go big with the other activities at their child's party. Our shows are designed to give kids a full and satisfying Ninja/Pirate/Superhero/Jedi Training experience on their own, but if you want to go really big with it and create additional activities, we're happy to discuss how we can help you run them.
For more information, please sign up for a
Rock Your Event
call with one of our event specialists.
My husband, friend or relative would like to wear his Darth Vader or Kylo Ren costume at my Star Wars event. Is that possible?
Yes, we've done this many times for clients. It seems to work best when the Sith Lord's appearance is brief and begins about 10 minutes before the end of my show. Most of the kids will already have their balloon lightsabers by this point, giving them the opportunity to practice their new moves in battle with their dark adversary.
Just warn your Sith Lord that they're in for an intense experience – those costumes are hot to wear and they're likely going to be swarmed by every single kid at the party the moment they appear! If you're interested in having a Sith lord be a part of the actual show, our Platinum Jedi package features an appearance by Darth Vader.
Do you offer themed experiences other than the ones listed on your site?
We produce custom experiences for a small handful of select clients each year, usually those with ample lead time and the means to create something truly special for their guests. Please sign up for a
Rock Your Event
call to inquire about having us create a custom experience for you.
How do I prepare for having a bounce house or other activities at my event?
Bounce houses and other activities such as face painting, crafts, and petting zoos are an excellent addition to a large family event. Kids engage best with our experience when their attention is undivided, so we request that other activities be located away from the performance area, bounce houses are turned off during the performance, and other activities are paused while the experience is taking place.
If you need help sourcing additional activities, sign up for a Rock Your Event call and we will be happy to refer you to a professional event planner in our network who specializes in upscale family events.