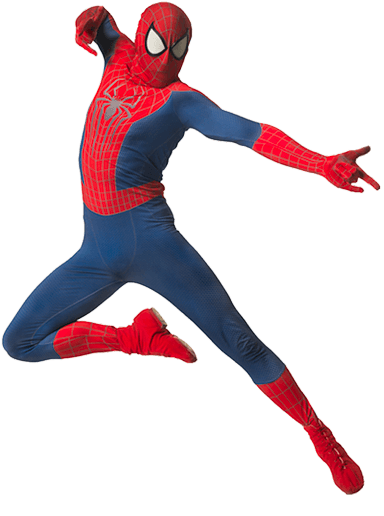 SUPERHERO Parties
At your child's superhero birthday party, Spidey will swing in ready to impart all of his superhero wisdom!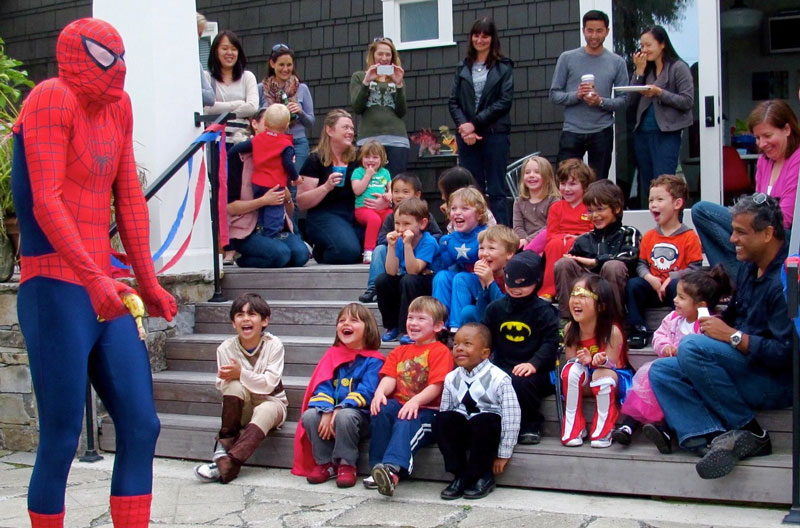 SUPERHERO Parties
At your child's superhero birthday party, Spidey will swing in ready to impart all of his superhero wisdom!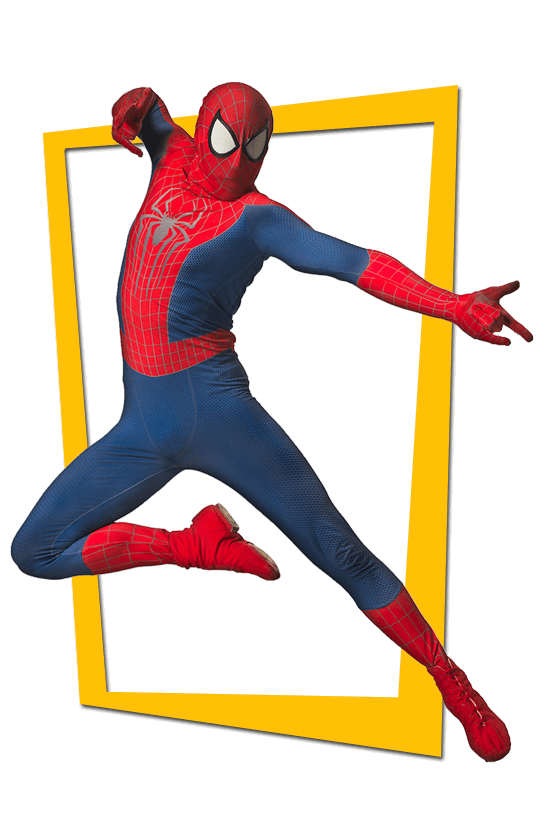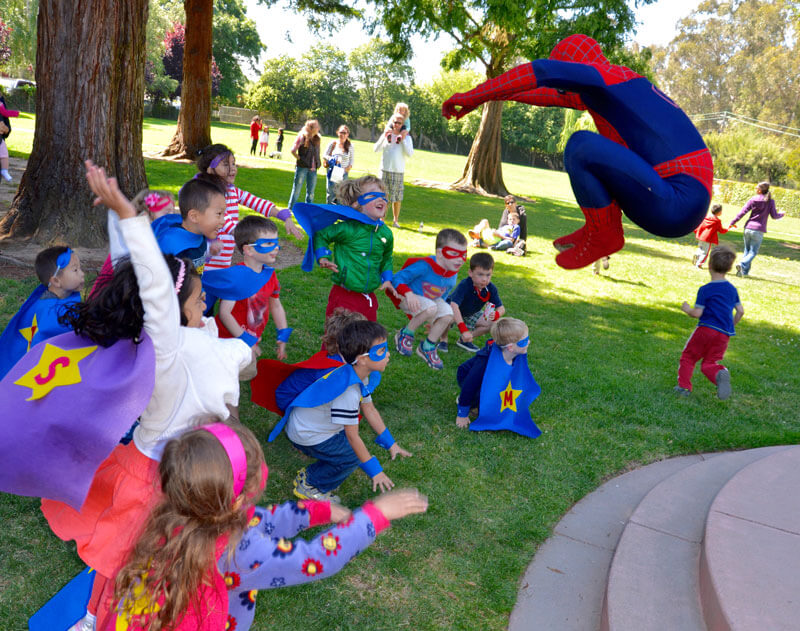 Imagine the expression on your child's face when Spider-Man swings into their superhero party to share his secret superhero knowledge! Spidey's movie-accurate costume and extensive knowledge of his movie exploits will have your child crawling up the walls with the knowledge that they've received a visit from a real superhero!
SUPERHERO MAGIC
Your child's superhero party begins with a funny superhero magic show, where your guests learn how to tap into their own Spidey-sense! Your birthday boy or girl will be the star of the show as Spidey's special helper, unlocking their own hidden powers to look like a real superhero in front of all their friends!
ACTION-PACKED SUPERHERO TRAINING
Your superhero party then continues with action-packed Superhero Training! Young defenders of justice are led through a fun superhero workout that leaves them grinning ear to ear as they run, jump, and master proper form for a wide range of heroic moves. Superhero Training is designed to burn off any excess energy your guests might have, making them easier for you to manage after Spidey's appearance.
BALLOON TWISTING
As your child's superhero themed birthday party wraps up, each guest receives a custom balloon creation to take home – no need for you to buy extra party favors! Of course, no Spiderman theme party is complete without a photoshoot with Spidey and the whole team "shooting webs" at the camera! Having Andy at your superhero party ensures that your young guests will be fully engaged and supervised, giving you a well-deserved opportunity to relax with the other parents. With everyone's kids laughing and having a great time, you'll look like the best superhero party planner in town!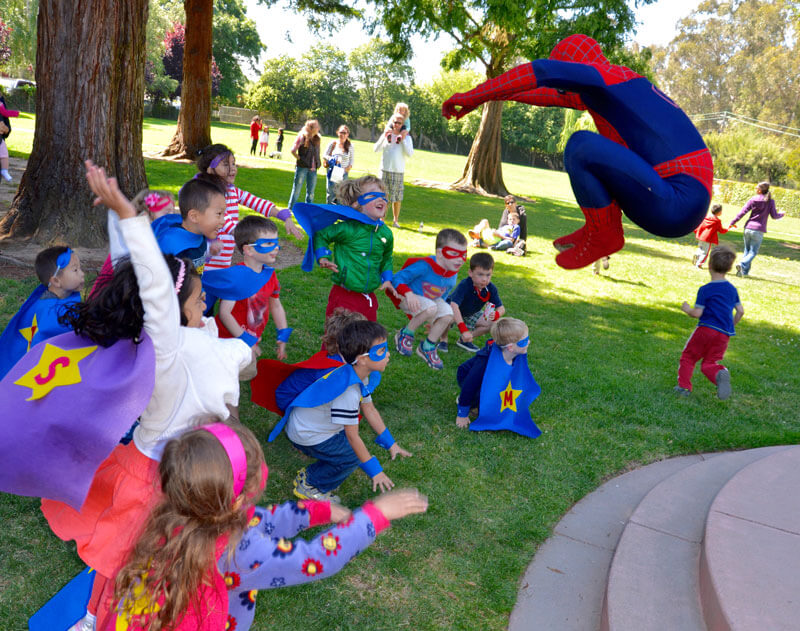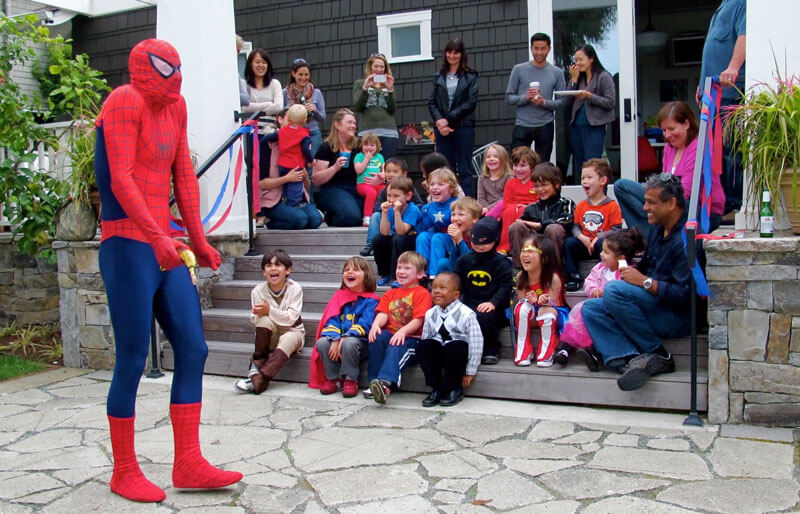 LARGER SUPERHERO PARTIES
For larger parties (or if you'd like to keep your child and their friends engaged for more than an hour),Andy has an event experience for you! Longer event appearances are a great way to offer a bonus segment of action-packed physical training, complete with agility drills and a chance to practice flying leaps over Spidey himself!


A STRESS-FREE SUPERHERO PARTY FROM A TOP PROFESSIONAL ENTERTAINER
Bay Area superheroes love Andy Zandy's Spiderman birthday parties and their action-packed Superhero Training. Bay Area parents appreciate the peace of mind that comes from having a superhero character entertainer to engage their guests. Andy makes himself available to you through every step of the party planning process, giving you access to a professional resource for questions and advice on how to make your party run smoothly. Give yourself and your child the gift of a stress-free superhero party from Andy Zandy: Click the "Contact Us!" button and make your reservation with the Bay Area's top professional superhero today!

FOR ADDITIONAL SUPERHERO TRAINING AND AUDIENCE ENGAGEMENT, SPIDEY CAN ALSO MAKE APPEARANCES WITH BATMAN, CAPTAIN AMERICA, BATGIRL, OR WONDER WOMAN!
Additional characters are a great addition for larger parties. Inquire in your quote request form for availability.

SUPERHERO PARTIES ARE IDEAL FOR KIDS AGE 3-6.